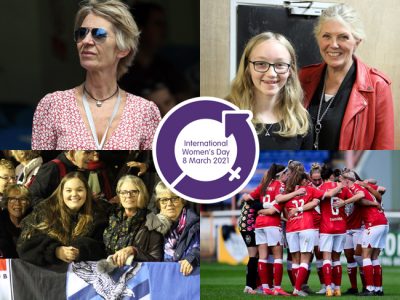 Bath City FC mark International Women's Day – 8 March
At Bath City FC, we strive to be an authentic and progressive Club, which is open, inclusive, considerate and diverse. With that in mind, we are thrilled to mark International Women's Day, 8th March, as it is an important day to celebrate women's achievements and raise awareness about equality.
This season, we are proud to host Bristol City Women at Twerton Park. It's enabled us to raise the visibility of women's football locally and opened our stadium to a broader audience through the mainstream TV coverage of the FA Women's Super League.
As part of the fixtures this season, we even welcomed 2019 FIFA World Cup winner Alex Morgan to the ground in an exciting match where a late equaliser earned Bristol City Women a point as they came from behind against Tottenham Hotspur to draw 2-2 (match date: 14th November 2020).
Whilst it is great to see women's football going from strength to strength – there is still more to do to achieve an equal footing with the men's game. To do that, we need successful, inspiring and resourceful women and men to take up the cause and champion fairness.
At Bath City FC, we are fortunate to have a plethora of amazing women who work, volunteer and make a difference within our community and today we wanted to say thank you for all their hard work for us.
Whether it's Carole and Jan in the office, Donna and the bars team, Cheryl as our Supporter Liaison Officer, Helen at the Foundation, Emma and Sally in the Society, Alison and Heather in the Supporters Club, or our young inspiring girls who flag wave and help on match days and many more besides – you are all a vital part of the glue that holds BCFC together and we appreciate you.
Joy Saunders, Community Director.