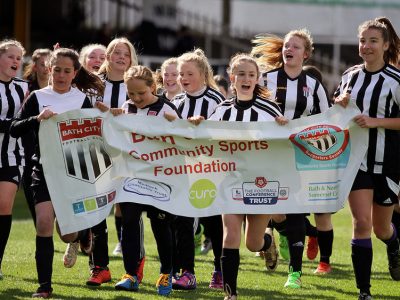 Bath City FC Community Sports Foundation recruiting for a new Chair of Trustees
Bath City FC Community Sports Foundation is looking for a new Chair of Trustees to lead a re-energised Board towards the next phase of its development as a sporting force for good across Bath and North East Somerset.
The Foundation is an independent charity that works in partnership with Bath City Football Club, a newly community-owned Club.  It has a good record of delivering active sporting participation and lifestyle programmes for children and young people in B&NES.
Following the retirement of its founding Director, it now requires fresh strategic leadership from someone with a keen interest in promoting the needs of the local community and tackling societal problems through sport.
This is a voluntary role that will involve responsibility for leading the Foundation, close collaboration with funding partners and Bath City Football Club, and the ability to foster closer links with other local organisations, community groups and charities.
The successful candidate will be an excellent communicator with experience of fundraising, motivating a team and building strong relationships with staff and partner organisations.
They must have a strong grasp of charity governance issues and be familiar with the legal duties and responsibilities of trusteeship.
To apply in writing, or for more information, please contact  Simon Tapscott (Trustee) as follows:
Email simon@dogoodthings.co.uk.  Tel – 07816 322056
Closing date for applications:   Friday 20 October 2017