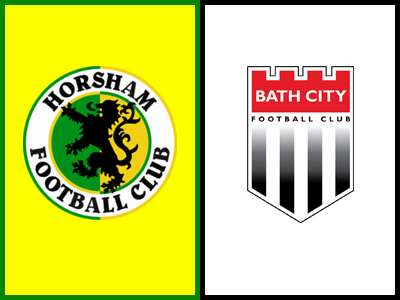 City begin what we hope will be a long and fruitful run in the FA Trophy next Sunday when we visit Lancing in Sussex to play Horsham of the Isthmian South East Division. The match is being played a day later due to the Hornets sharing the Sussex FA Head Quarters at Culver Road with Lancing FC who have a home fixture on the Saturday.
This will be the first time we have faced Horsham, who coincidentally are soon to play today's visitors, Eastbourne Borough, in the Sussex County Cup. Any Horsham spies present today will be killing two birds with one stone!
The excellent Horsham website states that the club have only reached the Trophy first round on the one occasion, some forty years ago, but they have provided upsets in two of their three matches this season to reach this stage, knocking out Isthmian Premier opponents in Corinthian Casuals and Potters Bar. Horsham also took our recent opponents from Poole Town to a 3rd Qualifying Round replay in the FA Cup. The Hornets presently lie seventh in their league with 19 points from 11 matches.
According to the Sussex FA website the ground at Lancing looks very modern with a 3G pitch, which is probably just as well what with the recent monsoon weather and the fact that Horsham and Lancing are just two of several clubs who use it!
Getting there
The 120 mile trip from Bath will take around three hours. The Supporters Club is running a large coach, full details of which can be found here or by ringing 07751 405439.
The train trip from Bath Spa will take around 3.5 hours, with at least one change and a five minute walk from Lancing station.