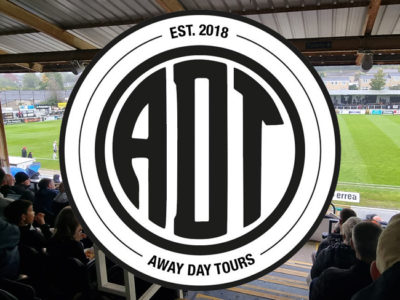 Away Day Tours visit Twerton Park
The Away Day Tours lads visited Twerton Park last Saturday for the clash with Worthing and posted this great review of their trip:
Yesterday's trip for Away Day Tours was to see high flying Bath City take on mid table Worthing FC in the torrential rain at Twerton Park, Upon arrival I was greeted by Peter Headington who is a volunteer at the club, Peter then showed me around 3 hours before kick off, prior to the players arriving. We then went up to the Premier Lounge where Bath City manager Jerry Gill was there having a chat with supporters and Sponsors.
As we headed onto the pitch my first impression was that of the terracing, as many people know who follow the page I'm quite partial to a terracing. As the players started to warm up we came off the pitch and headed into the lounge where the match day atmosphere started to build up with the match sponsorships having their pre match meal. We then headed to pitchside as the players were coming out to get some good shots with the camera.
Now normally we are in with the crowd as that's what our page is all about but Peter told me to go any where in the stadium I fancied so I took up a spot in the main Grandstand for a great view of the match day action. The match in itself was a very commanding and organised display from Worthing with Bath City battling on second half. With the rain still belting down it finished 2-0 to Worthing Fc and their soaked fans heading back home with a 232 mile round trip with the 3 points.
A great day and a great shout out to Peter who went above and beyond to look after us all day and it shows that Bath City who are a community owned club are a fantastic club on today's visit. If any club wants us to try and put them on the map to visit their club then please get in touch with us via inbox.
You can read more of their adventures on the Facebook and Instagram pages.
Thanks lads, we're really pleased you enjoyed your day with us and you're welcome back anytime!