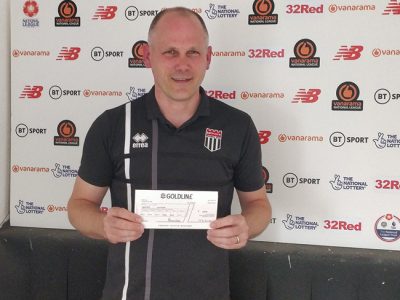 And another big Goldline Lottery Winner!
Another £250 winner in the Goldine Draw – that's 3 weeks in a row City fans have won BIG prizes (2 x £250 and 1 x £500 plus some £25 winners).
The photograph shows City fan Leon Webb, in the interview room at Twerton Park, with his £250 cheque won in draw 6 on Friday 6th May.
Thank you to all the people who support the Goldline Draw, which has raised nearly £20,000 for the club in just under 17 months.
Have you considered supporting your club with the chance to win prizes ?
70 pence in every £1 goes STRAIGHT TO BATH CITY FC
For more information on the Goldline Draw click here or phone Bob Chester on 07786092836.