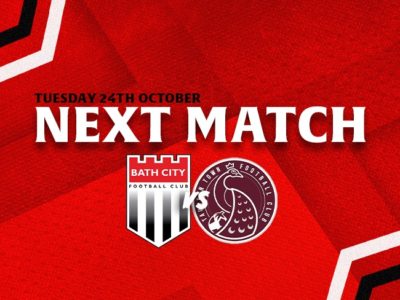 Next Match – Taunton Town (H)
City finally return to Twerton Park this Tuesday after four games away. And the visitors are Somerset rivals and early season play-off hopefuls Taunton Town. The Peacocks are currently second in the National League South. City sit one place below them, with a game in hand.
Before last weekend, Taunton hadn't lost a league game since Aveley beat them 4-1 in the second match of the season. However, like City, their unbeaten run ended on Saturday, in their case 0-1 at home to Hampton & Richmond Borough. But also like City, they have won six matches to counter those two defeats, and it is the point they earned in the extra match they have played that places them above the Romans in the league going into this match.
Despite their defeat last Saturday, and their Cup exit to Merthyr Town, Taunton have a strong record at home this season, with five wins in seven league matches. This has kept them in the play-off places since they beat St Albans City on 26 August. Away from home, however, they have only won once in their last seven in all competitions – 3-0 at Tonbridge Angels on 9 September.
City have themselves been in the top seven since the 2-1 win at Eastbourne Borough on 19 August. But the Romans were less fortunate than this Tuesday's opponents on their trip to Tonbridge last Saturday. Despite going up 2-1 in the first half, they eventually lost 3-2 after Ollie Wright dislocated his shoulder on the stroke of half-time. Stand-in goalkeeper Joe Raynes performed heroically but was powerless to save either of the two penalties the home side were awarded in the second half.
City drew 1-1 at Taunton in September 2022, though it took a last-minute flicked header by Alex Fletcher to rescue a point on a difficult Tuesday night. The return fixture at Twerton Park, played on Good Friday, ended 2-0 to Taunton. However, City have scored in every home game since that defeat six months ago.
Several familiar faces could be coming back to Twerton Park as Taunton currently have seven former City players on their books. Dan Ball, Lloyd James, Nat Jarvis, Nick McCootie, Dave Sims-Burgess, Zac Smith and Ross Stearn have 729 City appearances and 101 goals between them. Dan Ball was at the club for ten years between 2012 and 2022 and made 311 appearances, scoring eight goals. He still holds the record for most NLS appearances for us, with 255. Their goalkeeping coach, Steve Phillips, also played 53 times for Bath.
This will be the first of two home games this week after a month away. On top of that, it's a top of the table clash – and a local derby to boot! The game should be an absolute cracker and we hope to see you come and get behind the City!
Who – Bath City v Taunton Town
When – Tuesday 24 October, 7.45 pm
Where – Twerton Park