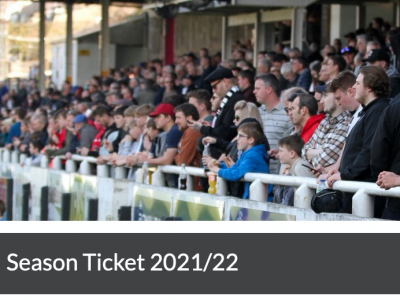 2021/22 Season Tickets on sale now
We are pleased to announce that 2021/22 season tickets are on sale now!
With the return of league football to Twerton Park just weeks away, we're delighted to be able to offer you 2021/22 season tickets with savings of up to £50 and a host of benefits as well as priority access.
We are selling up to 750 season tickets for the Grandstand and Terracing to be comfortably within our Covid-restricted 830 capacity. With restrictions lifting, we expect to have a much larger capacity when the season begins, but holding a season ticket is the best way to ensure attendance should a restricted capacity be applied again. Furthermore, season ticket holders will have priority access for cup matches.
If you have rolled over your 2020/21 season ticket or donated half the value, we will be in touch with you separately – please don't worry.
Season ticket pricing:
Adult Grandstand – £250 – SAVE £50 on 20 matches
Adult Terrace – £235 – SAVE £45
Senior Grandstand – £195 – SAVE £45
Senior Terrace – £185 – SAVE £35
Student/U18 Grandstand – £145 – SAVE £35
Student/U18 Terrace – £135 – SAVE £25
Child Grandstand – £50 – SAVE £50
Child Terrace – £25 – SAVE £35
We are making a total of 750 season tickets available in a controlled release, which includes season tickets already purchased or rolled over from last year. Buy yours now for:
Guaranteed entry to every home league match
Priority access to FA Cup and FA Trophy matches
Savings of up to £50, with at least 3 free matches
Five free drinks in Club bars
£5 Club Shop voucher
Hassle free entry to every match – no need to buy tickets each time
We look forward to seeing you at Twerton Park on 14th August for the return of league action!