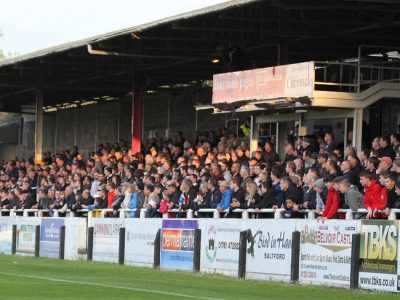 10-Year Patron Season Tickets available now
As you may have heard, your Club recently submitted a planning application to instal a modern 3G pitch at Twerton Park. This has the potential to make Twerton Park the true home of all Bath City football – where the men's first team and the women's team train and play matches, the Bath City Foundation can deliver amazing coaching and life-enhancing opportunities to all kinds of deserving groups and Bath City Youth's 100s of young people could train and play in a unique and magical environment. PLUS – the pitch will be available to schools, community groups and individuals to rent for their own use.
Imagine the thriving hub this could make Twerton Park and the vitality it could bring to the area.
We believe the 3G pitch is the key to unlocking a six-figure sum of additional net revenue (after all costs) every year for your Club and finally making us sustainable. At the same time we are making renewed progress on the partial redevelopment with our new, locally based partner, that could further enhance the financial picture.
We hoped to make the 3G pitch happen in the summer of 2023, but the reality is that it will most likely take a little longer and we are now anticipating installation in the close season of 2024. And we are asking for your help to get there. We're looking at one more year before we can fundamentally change the Bath City FC business, and are offering to sell 25 10-year Patron Season Tickets to some of our most dedicated fans to bridge that gap.
Ten of your fellow fans have already signed up to this special opportunity to save money and support City.
These season tickets are priced at just £2,750 and include access to a hospitality lounge for the full ten years. The price locks in a discount on the current Citizen Season Ticket price of £310, guaranteeing a saving of £350. Taking into account average inflation of 3% per year, that saving will be more like £800. Plus all Patron Season Ticket Holders will be invited to an early-season Patrons Drinks Reception where you'll get an exclusive briefing from the Manager.
If the Patron Season Ticket isn't quite right for you, we have other options for you to support your Club at this time.
However you get involved, this is about making the dream of Twerton Park being the beating heart of all Bath football and making Bath City FC viable for generations to come into a reality.
We know finances or circumstances may mean this isn't possible for many people, and we will be launching single season tickets for 2023/24 soon that should be attractive to all. But if you are able to help the Club and lock in those long-term savings for you, we hope you'll join us to help realise that dream by becoming one of our 25 Patron Season Ticket holders or contributing in the way that suits you best.
Thank you,
Bath City FC Board